सालासर बालाजी की आरती श्री गोस्वामी तुलसीदास द्वारा रचित एक अध्यात्मिक भगवान श्री हनुमान (lord hanuman) को समर्पित स्रोत है। जनश्रुति के अनुसार एक बार की बात है जब कलियुग के प्रकोप से तुलसीदास जी की भुजा में अत्यंत पीड़ा हुई तो उसके निवारण के लिये तुलसीदास जी ने इस स्रोत की रचना की थी। खैर अधिक जानकारी पोस्ट के आखिरी में पढे।
Shri Salasar Hanuman ji Aarti In Hindi Lyrics
जयति जय जय बजरंग बाला, कृपा कर सालासर बाला
चैत सुदी पूनम को जन्मे, अंजनी पवन ख़ुशी मन में
प्रकट भये सुर वानर तन में, विदित यस विक्रम त्रिभुवन में
दूध पीवत स्तन मात के, नज़र गई नभ ओर
तब जननी की गोद से पहुंचे, उदयाचल पर भोर
अरुण फल लखी रवि मुख डाला
कृपा कर सालासर बाला
तिमिर भूमंडल में छाई, चिबुक पर इन्द्र ब्रज बाए
तभी से हनुमत कहलाए, द्वय हनुमान नाम पाए
उस अवसर में रुक गयो, पवन सर्व उन्चास
इधर हो गयो अन्धकार, उत रुक्यो विश्व को श्वास
भये ब्रम्हादिक बेहाला कृपा कर सालासर बाला
जयति जय जय बजरंग बाला, कृपा कर सालासर बाला
You can also Downlaod shri salasar Balaji Aarti in many other languages by Clicking Below links:-
Salasar Balaji aarti in English
Salasar Aarti in Punjabi
Salasar Hanuman ji aarti in Marathi
Salasar Hanuman ji aarti in Tamil
Salasar Hanuman Aarti in Marathi
Salasar Hanuman aarti in Telugu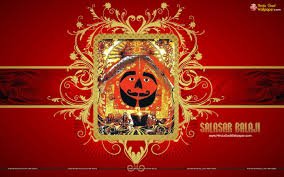 Salasar Hanumanji Aarti in Pdf format
if you really like our post on Salasar balaji ki aarti then you can also download It's Pdf File.You can Download shri salasar Hanuman ji Aarti in pdf format from Below link.
How to download Aarti in other languages:-
Please Use Google Translator or any other translator to Read or Download Salasar Hanumanji Aarti in any language of your choice. If your Desired language is not listed above.
Download Salasar Hanumanji ki Aarti in Hindi MP3

You can download below Free Download Salasar Hanumanji ki Aarti in PDF format and save it or also can Print it on physical Papar for your Reference.