Hanuman Anjaneya Stotram Lyrics in English
Anjaneya Stotram in English Language with Meaning & complete Translation (Lyrics ,PDF and Images download) (Updated Today, 2021- Complete Details).
Translation and meaning in English , For readers of Shri Hanuman Anjaneya Hanuman Stotram who are comfortable in Reading Stotra in English Language. English Hanuman Anjaneya Stotram for all the  devotees of Lord Hanuman ji from everywhere in the world today. Completly Genuine and Vedic shri Hanuman Stotram in English translation for you. You can now download complete set of images, pdf, videos etc from this page.
Daily chanting of the Hanuman Anjaneya Stotra helps you get rid of the evils and brings peace of mind. It is your doorway towards a rich, Fresh, wealthy and joyful life.
Don't forget to save this page in your Mobile and Share with your friends and family.
Read Hanuman Anjaneya Stotram in English Language-
Anjaneya Stotram lyrics in English
Anjana nandanam Veeram janaki soka nasanam,
Kapeesa Maksha hantharam, Vande lanka bhayangaram. || 1 ||
Mano javam , maruda thulya vegam,
Jithendriyam buddhi matham varishtam,
Vatha atmajam vanara yudha mukhyam,
Sree rama dootham sirasa namami. || 2 ||
Anjaneya madhi patalananam,
Kanchanadri kamaneeya vigraham,
Parijatha tharu moola vasinam,
Bhavayami bhava mana nandanam, || 3 ||
Yatra yatra Raghu nada keerthanam,
Thathra thathra krudha masthakanjalim,
Bhashpa vari pari poorna lochanam,
Maruthim namatha Rakshasanthakam. || 4 ||
Phala sruthi
Budhir balam yaso dhairyam nirbhayathwam arokadha,
Ajadyam vak paduthwancha hanumath smaranath bhaveth.
HANUMAN ANJANEYA STOTRAM PDF DOWNLOAD–
Hanuman Anjaneya Lyrics English version is also available in PDF format guys.
If you want to download the PDF for English Hanuman Anjaneya Stotram please click the below link
Watch English Hanuman Anjaneya Stotram Video on Youtube
Hanuman Anjaneya Stotram in English with meaning
As per demand of the our readers, we also translated the Hanuman Anjaneya Stotram in English language with meaning . It's always easy for readers to understand the Stotra of Shree hanuman ji with meaning. You can read and Download the Hanuman Anjaneya Stotram in English language with Meaning from below.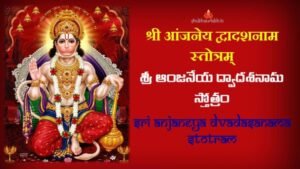 Salutations to the terror of Lanka,
Who is the heroic son of Anjana,
Who brought to an end , all sorrows of Sitha,
Who is the king of monkeys ,
Who killed Aksha the son of Ravana.
I bow my head and salute the emissary of Rama,
Who has won over his mind,
Who has similar speed as wind,
Who has mastery over his organs,
Who is the greatest among knowledgeable,
Who is the son of God of wind,
And who is the chief in the army of monkeys.
I bow before the darling son of the god of wind,
Who is the son of Anjana,
Who is great among killers of ogres,
Who is like a golden mountain,
Who is handsome to look at,
And who lives near the roots of Parijatha[2] tree,
I pray and salute the son of wind god,
Who brought to end the rakshasas,
Who is always present with eye full of tears,
With head bowed in veneration,
Wherever the praise of Lord Rama is sung.
He who meditates on Lord Hanuman,
Would be blessed with knowledge, strength,
Fame, courage, fearlessness, health,
Tirelessness and mastery over words,
Download Hanuman Anjanaya Stotra In English with Meaning
For the convience of readers we also made a PDF file of Hanuman Anjaneya Storam In English. You can directly Download the PDF file from the below button. Click The Button Below to Download.
Conclusion Hanuman Anjaneya Stotram in English Lyrics
Brief Overview of Shree Hanuman Anjaneya Stotram in English language-
If you don't know that hat Originally Shree Hanuman Anjaneya Stotram was written in Awadhi language widely spoken in North UP and Bihar.
It was Written by Saint Brahmins and today Hanuman Anjaneya stotra is one of the most popular Vedic stotra Path to please Lord Hanuman for their devotees.
After Chanting or reading Hanuman Anjaneya Stotram in English, if you want to see the English translation and Meaning please follow below –
As per Vedic Shastras and vedas, it is believed that Lord Hanuman is currently present today on the earth as he is always "Amar" means who can never die.
If you want to remove all bad things from your life than, You should Also read Sundar kand this is one of the main chapters in Ramayana and it is believed that the Lord Hanuman is always present where this holy sundar kand Path is chanted or read anywhere in the World.
Shree Hanuman ji always Bless his devotees and certainly protects all of the devotees from various Serious Diseases, Pains, Tentions, Evil spirits and from anything overall Obstructions faced by them in their lives etc.
Hanuman Anjaneya Stotram Lyrics from our website is easy for those who don't know how to read or Chant it Properly.
We collected and complied these in almost every possible language with meaning also so it became easy to Chant Hanuman Anjaneya stotra from Anywhere in the world.
You should Chant Shree Hanuman Stotra everyday. It will surely going to benefit you.
But, You need complete devotion and cleanliness and hygiene while chanting shree Hanuman Stotram lyrics in any language.
You can chant shree Hanuman Chalisa (In English, Hindi, Bengali, kannada, Tamil, Telugu, Nepali etc. lyrics) at any time during the 24 hours day.
it may be morning or evening i say anytime means anytime.
On Tuesday and Saturday, you should always chant – Hanuman Chalisa.
Jai Shree Hanuman! Jai Bajrang Bali!
Thanks to Read our post on Hanuman Chalisa In English.
!! JAI SHREE RAM !!
!! JAI SHREE HANUMANTE NAMAH !!
Special Request- Please share this post with your friends so they can also aware about the Superior Power of Shree Hanuman ji . You Can share Directly From Below Buttons-